BreachRx Cyber RegScout™
Set your teams free from outdated & manual research for handling regulatory notifications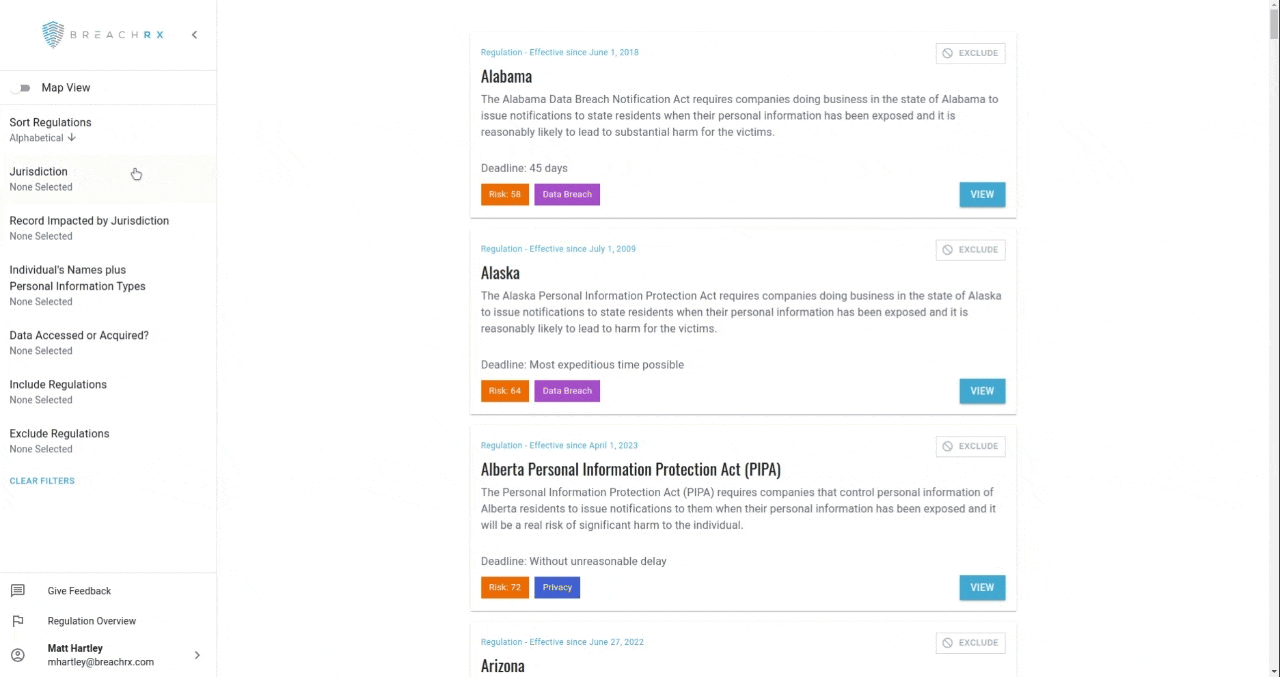 BreachRx reinvents cyber regulatory intelligence and analysis
Cybersecurity and privacy reporting requirements are growing increasingly complex and onerous.
Breach notification windows are growing shorter.
Regulators, customers, and contract partners are demanding continuous, ongoing reporting when incidents occur.
How can you adapt to this complex and rapidly evolving landscape?
Teams must break free of the manual status quo of stale law firm websites, regulatory spreadsheets, and legacy software with an innovative approach that redefines industry practices.
Experience a solution purpose-built for legal and compliance professionals to save time, reduce costs, mitigate risk, and accelerate action.
Simplify Cybersecurity, Data Breach, and Privacy Regulations
Arm your team with a global regulatory library containing the key details, exceptions, and insights they need to comply with 180+ global laws.
Stay up-to-date in real-time to ensure ongoing compliance in this ever-changing landscape.
Identify What Matters, Exclude What Doesn't
Zero in on the regulations that apply to your given scenario or incident using its specific attributes rather than dig through broad sets of documents manually.
Leverage advanced filtering and sorting based on data types, geographical locations, and other key facets to quickly find narrow down to what's relevant.
Prioritize Regulatory Requirements Effortlessly
Streamline and optimize your notification process by leveraging BreachRx's unique and comprehensive risk scores, which incorporate over a dozen key elements including the recent actions of regulators, and accurately prioritize each step of your notification process.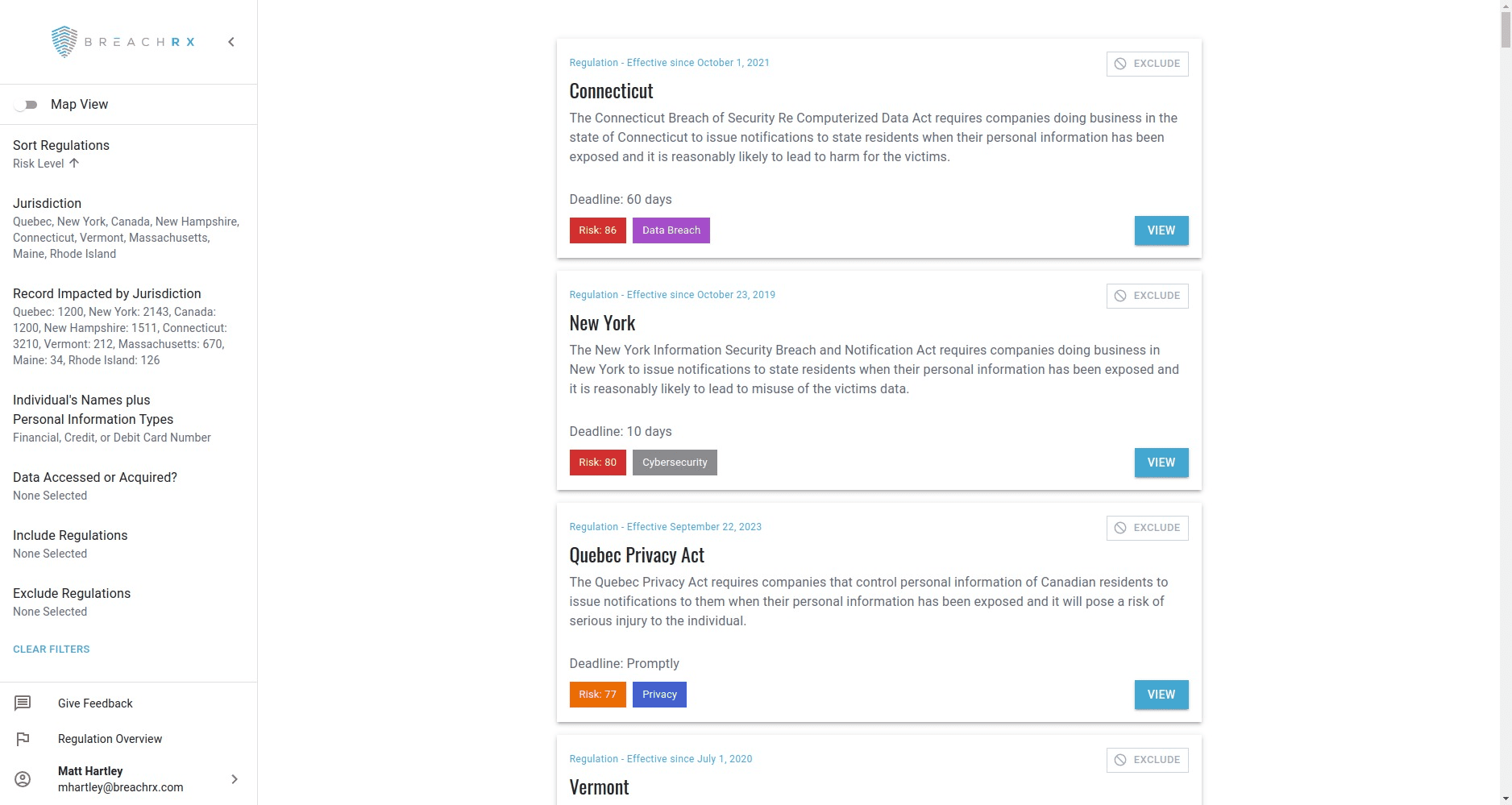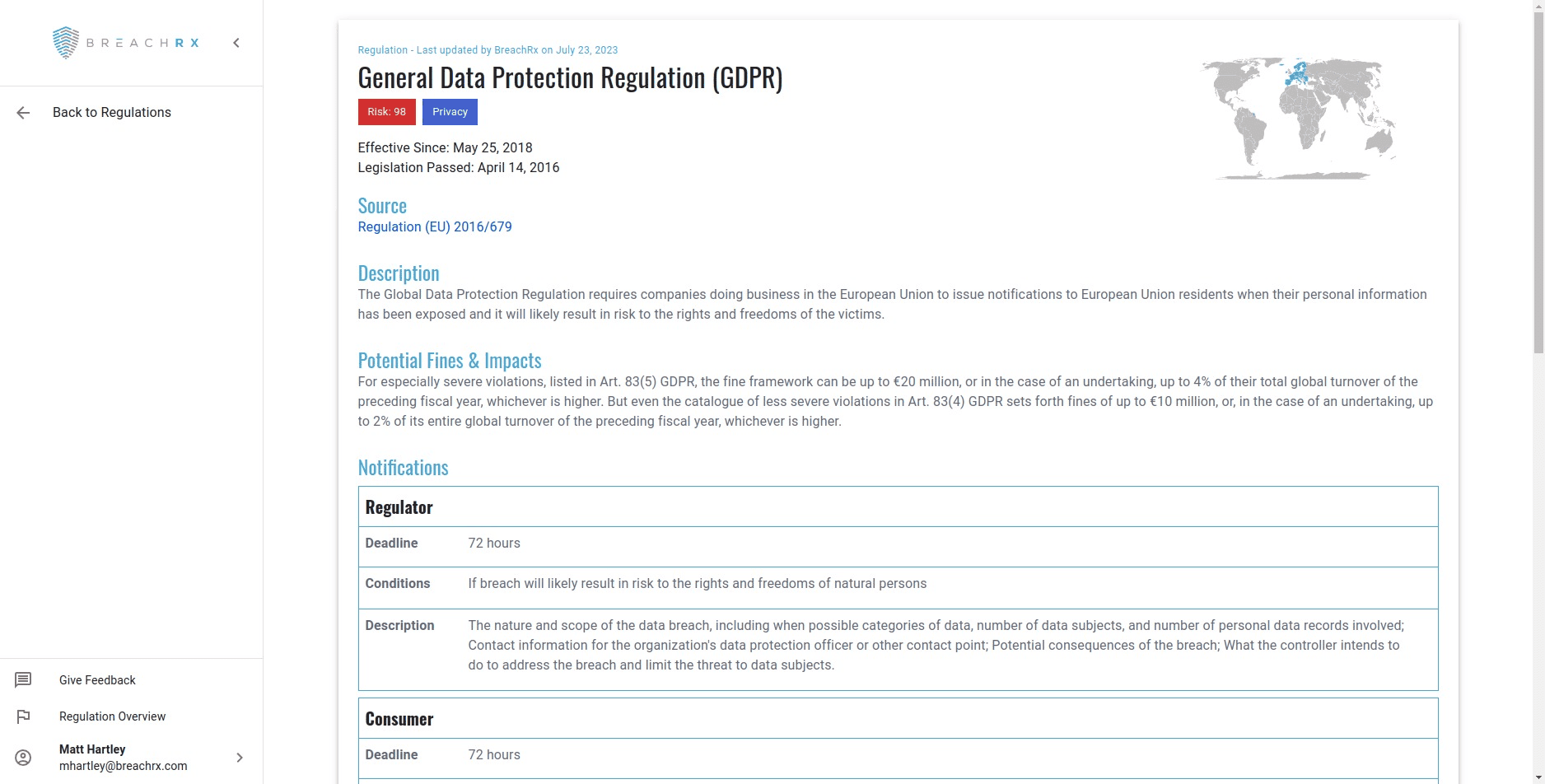 Mitigate Risk of Overlooking Requirements
Compare notification requirements for regulators, consumers, credit reporting agencies, and more, all at your fingertips, distilled by experts into what matters most.
Understand the conditions, thresholds, and exceptions and where, when, and how to notify for each jurisdiction.
Act Immediately and Confidently
Elevate your notification processes with a personalized approach that takes into account the assertiveness of each regulator.
Exceed expectations, build a strong relationship with lawmakers, and achieve your business goals with greater assurance.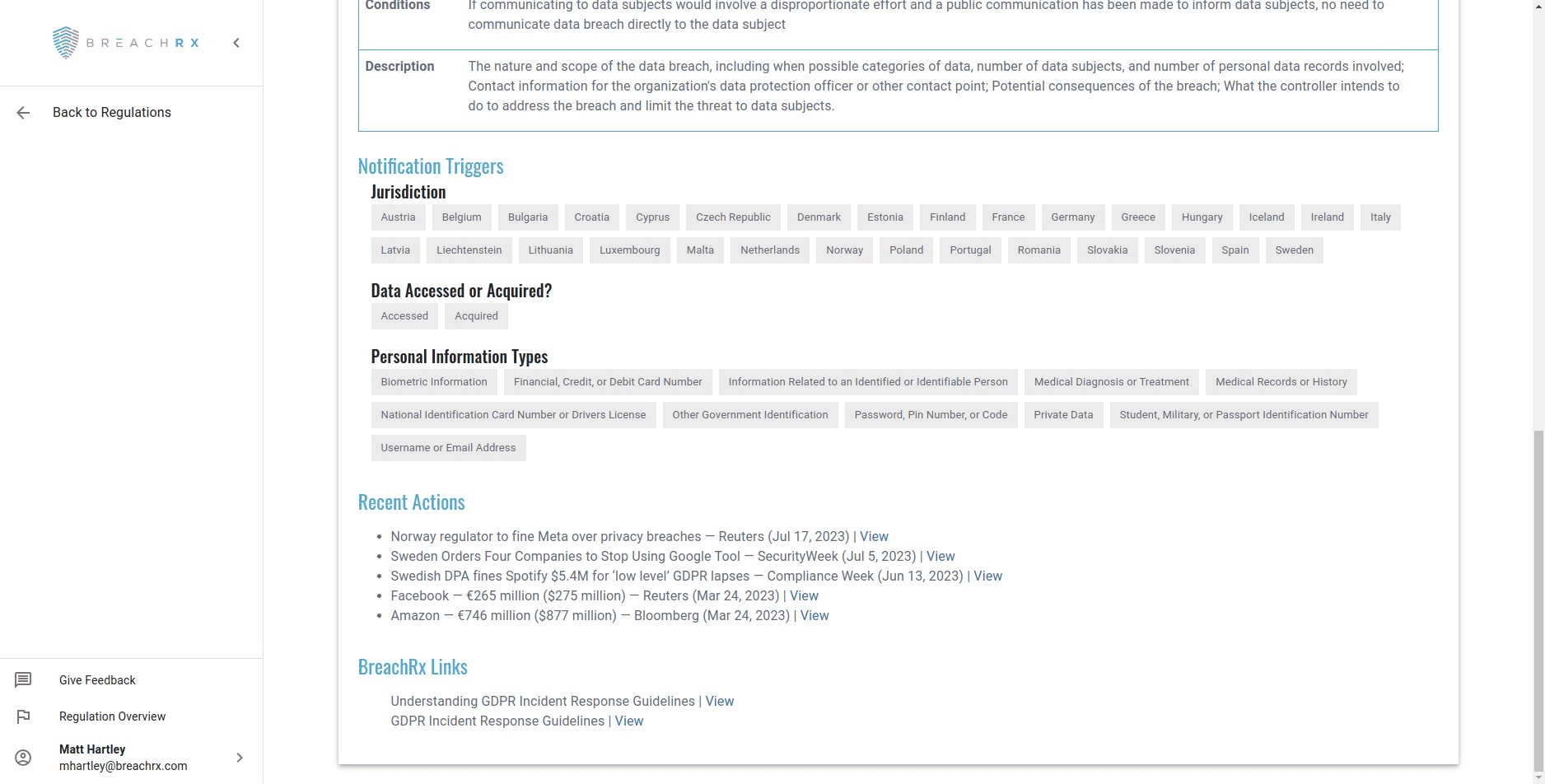 Whether you're proactively assessing breach risk or facing an active incident, you can enter information about the relevant data your company holds.
As awareness of what occurred develops, easily select the type of incident and add any additional details at any point as they are discovered.
Once the data attributes and incident details are entered or updated, BreachRx Cyber RegScout™ automatically identifies the regulations that apply to the given scenario and provides automation to curate and prioritize them further.
Explore regulatory details, including notification requirements and gain cutting-edge insights into each regulator's strictness and recent actions.
Trusted Legal, Privacy, & Compliance Teams Rely on BreachRx
"With Cyber RegScout, companies can proactively manage a growing risk. The future of work demands solutions like this that combine automation and expertise."
– Alexandra Ross, Senior Director, Senior Data Protection, Use, & Ethics Counsel at Autodesk
Reimagine your regulatory response with BreachRx Cyber RegScout™
Augment your team to rapidly research and confidently execute required reporting so they can get back to business.