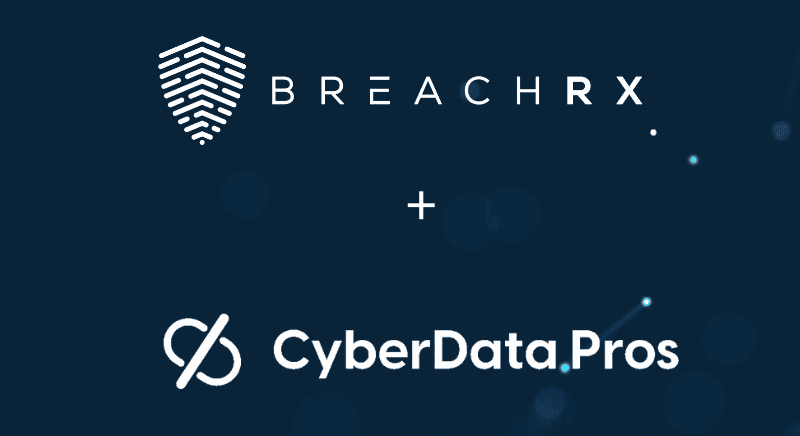 Click here to listen to this article via the BreachRx Blogcast
UNITED STATES, August 10, 2022 — BreachRx and CyberData Pros are teaming up to help businesses proactively establish, mature, and scale their privacy and cybersecurity programs.
The partnership announcement comes on the heels of stringent drafts, revisions, and directives published by the U.S. Securities and Exchange Commission, U.S. Transportation Security Administration, the New York Department of Financial Services, and the India Computer Emergency Response Team (CERT), the latest in a growing number of laws globally requiring proactive preparation for incidents and rapid notification upon their occurrence, regardless of the information involved. With over 180 privacy, cybersecurity, and data breach regulations across 128 countries, and more on the way, businesses around the globe are scrambling to grow their teams at the pace of regulatory developments.
The regulatory risk is compounded by customer pressure on businesses to prioritize their privacy and security. Consequently, the security team's efforts in an incident represent less than 30% of the total cost, with over 70% attributed to legal and privacy costs. Teams are juggling as many as hundreds of incidents a week, which is costing them millions of dollars. This has led to over 67% of growing companies receiving an increase in cyber insurance premiums, tied to new strict requirements to preserve the ability to make claims. It's no surprise then that CEOs are citing privacy and cybersecurity incidents as one of the biggest threats to the top line.
Privacy and data protection are now a business imperative, and privacy, legal, and security teams are under pressure to scale to enable the business. However, scaling through additional headcount is not only cost prohibitive, but also difficult given the limited number of skilled privacy and security professionals.
The CyberData Pros and BreachRx partnership provides companies with more efficient solutions. Their first joint offering provides CISOs, CPOs, and GCs with best-in-class technology including on-demand regulatory intelligence and operational expertise from the industry leaders. It also includes co-developed plans and playbooks to help businesses prepare for and respond to emerging new regulations and the most common attacks currently being launched by threat actors. Their second joint offering accelerates team maturity by delivering the industry's first truly holistic cyber readiness exercise. By accompanying the cybersecurity aspects of an exercise with regulatory and privacy requirements, the partners deliver an integrated and fully comprehensive experience of real incidents for executives and their teams.
"Our partnership with BreachRx will help our market-leading clients get more proactive in their security posture," said Chris Arrendale, CyberData Pros CEO & Founder. "Today's top performing teams go beyond the compliance minimums to enable their business and build trust with their customers. Together with BreachRx, we provide automation and teams for our customers to streamline their collaboration across functions and get ahead of ever-changing regulations and contractual obligations."
Anderson Lunsford, BreachRx CEO & Co-Founder remarked, "Our partnership with CyberData Pros provides our customers with best-in-class expertise for building and training high-performance, integrated privacy and security programs. Together with CyberData Pros, we help teams prepare for every facet of the impacts from attacks. Our customers' journey to proactive readiness will be accelerated and their customers' trust will be fortified. It's crucial for companies of all sizes to prepare for and stay informed of changes in the privacy and cybersecurity landscape to minimize regulatory and contractual risk."
"In-house teams cannot scale at the rapid pace of change in the global regulatory landscape by hiring alone. Teams need to recognize the future of work demands solutions that combine automation with expertise," said Chris Donewald, Director and Managing Counsel of Privacy, Trust and Partnerships at Affirm. "Solutions like these that integrate security workflows with the expensive legal and privacy aspects of incidents should be foundational for every security and privacy team."
To learn more about the CyberData Pros and BreachRx partnership, email info@breachrx.com.
About CyberData Pros
CyberData Pros is the leading data privacy and cybersecurity consulting company. We offer multiple consulting services for GDPR, CCPA, ISO 27001, SOC 2, vCPO, vCISO, and much more. Our mission is to provide data privacy and security expertise to help companies spend more time growing their business. CyberData Pros provides the essential services to help you achieve a robust information security program.
Learn more about our service offerings at https://cyberdatapros.com or visit us on LinkedIn @CyberDataPros.
About BreachRx
BreachRx is the automated workspace where businesses manage one of their biggest incident & data breach response challenges today: their regulatory and compliance risk surface. The platform's automated workflows proactively minimize business risk and streamline workflows and collaboration across security, privacy, and legal departments, freeing up the bandwidth of internal teams. BreachRx further augments team readiness with cyber readiness exercises spanning all facets of incidents, unlike alternatives that overlook the legal and privacy requirements key to every incident.
Learn more about the only holistic approach to incident readiness and response at https://breachrx.com and on LinkedIn @BreachRx.